Low Back Pain-  when is it serious?
Who gets low back pain?
Low back pain is commonest in people between the ages of 45 and 59.

It's equally common in women as men.

Low back pain related to employment is commoner in men than women.
How common is low back pain?
When does low back pain become "chronic"?
The National Institute for Clinical Excellence (NICE) in the UK defines the categories of low back pain as follows:
Low back pain is "Chronic" if it's lasted more than 12 weeks.

It's "Sub-acute" if it's lasted  between 6 and 12 weeks.

It's"Acute" if it's lasted less than 6 weeks.
However, in many cases the pain is intermittent (it comes and goes) so these definitions can lead to confusion.
What causes low back pain?
There are many causes of low back pain. This article focuses on "mechanical" low back pain. However, back pain can sometimes signify serious, even life-threatening illness. Serious causes of back pain are much commoner in people over the age of 50.
You should always consult with a doctor if you're in any doubt over what's causing your back pain.
Causes of mechanical low back pain include:
P

hysically demanding work.

Frequent bending/twisting/lifting/pushing/pulling.

Standing still for long periods.

Work with vibrating equipment.

Emotional health issues such as stress, depression and anxiety (3).
I have low back pain- should I be worried about serious causes?
Serious illnesses can affect anybody. You should definitely see a doctor if you're worried about your low back pain.

If you have any of the following, you need to call an ambulance immediately:

Numbness around your anus (bumhole), your buttocks (bum) or the backs of your thighs.

Incontinence of faeces (poo) or urine.

Worsening weakness in your legs.

Things that can indicate an increased likelihood of serious problems include:

Significant trauma (eg. Road accident).

Pain going higher up in the back.

Feeling unwell.

Weight-loss.

Numbness/tingling.

Weakness in your legs.

Worsening or unrelenting pain.

Night pain.

Night sweats.

Older people (over 50).

Younger people (under 20).
How long does back pain last?
The outlook is normally positive.

90% of cases resolve within 6 weeks.

Most people who go off work are back at work within 1 month.

Most people who go off work for more than 1 month are back at work within 6 months.
What is sciatica?
Sciatica occurs when a nerve in your low back is squeezed (or "trapped"), usually by a "disc" or a muscle.

Discs are the shock absorber system of the spine

They are the doughnut-shaped softer pads between the bones of the back (vertebrae).

The spinal cord travels down the middle of the vertebrae and discs.

Nerves come out of the spinal cord between the vertebrae and discs.

If a disc bulges outwards between vertebrae, it can press on a nerve.

This can cause feelings of pain, numbness or tingling where the nerve travels to.

Sciatica is when the pain goes down the thigh, into the knee and below, sometimes into the foot.

It's often worse if you bend forward, cough or sneeze.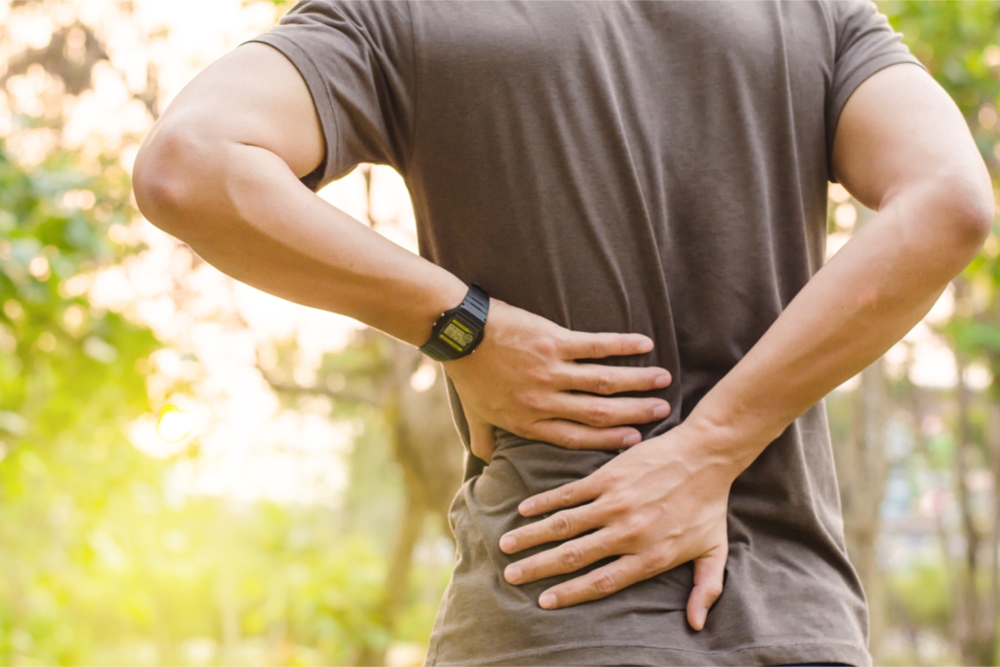 Lower Urinary Tract Symptoms in Men What are Lower Urinary Tract Symptoms? 'Lower urinary tract symptoms' are symptoms related to passing urine and are common in men as they get [...]
What is Testicular Torsion? Testicular torsion refers to the twisting of a testicle and the spermatic cord attached to it, inside the scrotum. If prolonged and untreated, the twisting rapidly affects the [...]
The causes of breast pain Breast pain refers to any area or areas of tenderness, discomfort or pain in one or both breasts. It can occur for a variety [...]
What is Phimosis? What is Phimosis?  Phimosis is the medical word that describes a tight foreskin that cannot be pulled back past the head of the penis (glans). This [...]
Symptoms of Coronavirus or Common Cold? Unfortunately it is difficult to tell the difference between symptoms of Coronavirus and a common cold. A lab test is the only way [...]