Can't see your type of new referral here ? We may still be able to help. If you are returning to a specialist that you have seen in the past, regardless of how long ago, you can get a repeat referral from us instead.
About New Specialist Referrals
A new specialist referral is a letter from a GP to a specialist that you have never seen before. It will state the reason you need to see the specialist and any relevant medical history.
In Australia Medicare card-holders get a Medicare rebate (money back from the government) when they see a GP. However, you only get a Medicare rebate when seeing a specialist doctor if you have a referral letter from a GP. So in order to get to see a specialist you need to see a GP in person first… until now!
qoctor offers new specialist referrals online for the following:
A surgeon for a vasectomy
A dermatologist for acne
A gynaecologist for insertion of a contraceptive coil
A gynaecologist for female sterilization
A surgeon for a circumcision (you or your child)
A respiratory specialist/lab for sleep studies to test for sleep apnoea
An ophthalmologist for laser eye surgery
A plastic surgeon for a variety of cosmetic procedures
So when is it time to change to a daily medication that aims to prevent migraine from happening in the first place?
Daily medication to prevent migraine is often considered by a doctor if a person has:
More than 2 migraine attacks per month that significantly affect daily life
Less frequent but more severe migraine attacks.
Frequent use of painkillers or triptan medicines to treat migraine attacks.
Painkillers or triptans are not effective, or the person is unable to take them because of side-effects or other problems.
Migraine due to medication over-use headache ( for more information click hre )
Do it online with qoctor and you'll:
…free up time
The last thing anyone wants is to spend precious time sitting in a waiting room, when you could simply organise your new referral in a few minutes from the comfort of your own home.
…save money
Getting your new referral from an online doctor is cheaper for you and for the taxpayer.
…free up appointments
Most medical centres and General Practitioners are very busy. By getting your referral online you free up appointments for other patients who may be unwell or require urgent medical care.
… keep your GP in the loop
Specialists sometimes have out-dated records for their patient's regular GP, and this can lead to difficulty in communication. It's very important that both your GP and your specialist work together as this will have the best outcome for your health. By using an online doctor, you would nominate your regular GP so that your specialist knows who to communicate and liaise with.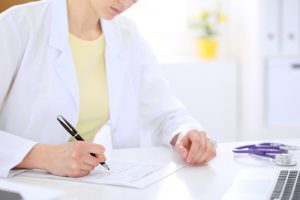 Just click on the link below, follow the instructions, pay the tiny fee, and you'll receive a repeat specialist referral letter that's legally valid for a Medicare rebate (if eligible). Any correspondence/information about the resulting consultation goes back to your regular GP, so there are no issues with interruptions in communication.
The causes of breast pain Breast pain refers to any area or areas of tenderness, discomfort or pain in one or both breasts. It can occur for a variety [...]