Dr Sicknote has changed- meet Qoctor, your quick online doctor!
Dr Sicknote was founded in 2015 by a group of Australian GPs who realised that a lot of medical issues could be easily and safely treated online. At first, Dr Sicknote simply provided sick notes (medical certificates) via video consultation. When we started to offer more services, such as online prescriptions, specialist referrals and other more general online consultations, the name was changed from Dr Sicknote to Qoctor. Focused on delivering quality at an affordable price point, a standard consultation to request a medical certificates costs just $24.99. 
Qoctor still offers an online sick note service- in fact it's now the number 1 online medical certificate provider in Australia. The service is trusted by workers, students and employers alike, particularly nowadays when it can be very difficult to get a timely doctor's appointment. It's also important to note that at Qoctor, to uphold safety and quality, we always speak to our patients before issuing treatment, advice or a certificate (unlike some other online providers).  This means workers and employers can have confidence in our service.
same day appointments with a doctor if you book before 630pm
open 365 days a year 830am-10pm AEST.
experienced Australian doctors– a Qoctor sick note is just the same as one issued at a regular clinic.
quick turnaround time- immediately download your sick note after the consultation
guaranteed refund if a sick note cannot be issued (for example, if we think you need to see a doctor in person)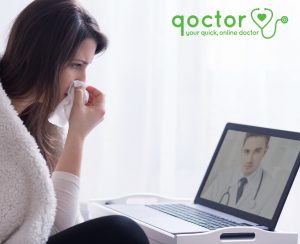 With Qoctor, you can now also get prescriptions or medications sent directly to your home, workplace or local pharmacy. We can offer assessment and treatment advice for common issues such as UTIs and sore throats.  Just go to the home page and click on the service you want. 
When can you get an online sicknote?
It is possible to get a sicknote online when an illness is not severe and does not require a physical examination. The doctors at Qoctor will ask some questions to make sure it is safe for you to get your medical certificate online. The most common reasons Qoctor doctors issue sicknotes include:
common cold
sore throat
gastroenteritis ("gastro")
period pain
migraine
sinusitis
lower back pain
mild soft tissue injuries
fatigue/exhaustion
How to get a sicknote online
The online doctor will ask questions about your illness via video consultation. They need to confirm the diagnosis and make sure you don't need to see a doctor in person.
Afterwards, you can download your sick note immediately after the consultation and print it at your convenience, or email to your employer/university.
How much does an online sick note cost?
A video appointment with one of our doctors for a medical certificate costs an affordable $24.99- no hidden extras.
FAQs about Qoctor's sicknote service
Can you request a medical certificate online?
aifricboylan
2023-06-16T18:19:20+10:00
It is possible to request a medical certificate online in Australia. Telehealth doctors need to be  fully registered with AHPRA .These days it is quite common for Australian GPs and specialists to assess their patients via video consultation, for all sorts of health issues. You should expect the doctor to ask you some questions abou